Most likely, your school's location is listed wrong on its Google My Business listing (which feeds Google Maps).
Simply put, Google My Business is a powerful tool that allows organizations to showcase their organization in Google search results however it seems to be doing more harm than good for a lot of schools… especially those with multiple addresses / locations.
While it's tempting to jump right in and get started creating your Google My Business listing, you need to first consider the department, school, or multiple campuses that you want to list.
Also, if you're marketing multiple institutions or internal entities (multiple schools within your school or you share your address with a church), it will be helpful to create a spreadsheet where you can keep track of your work for each school, department, or campus resource.
In addition to Google Maps, the information from your Google My Business listing will also appear on local search results. See below.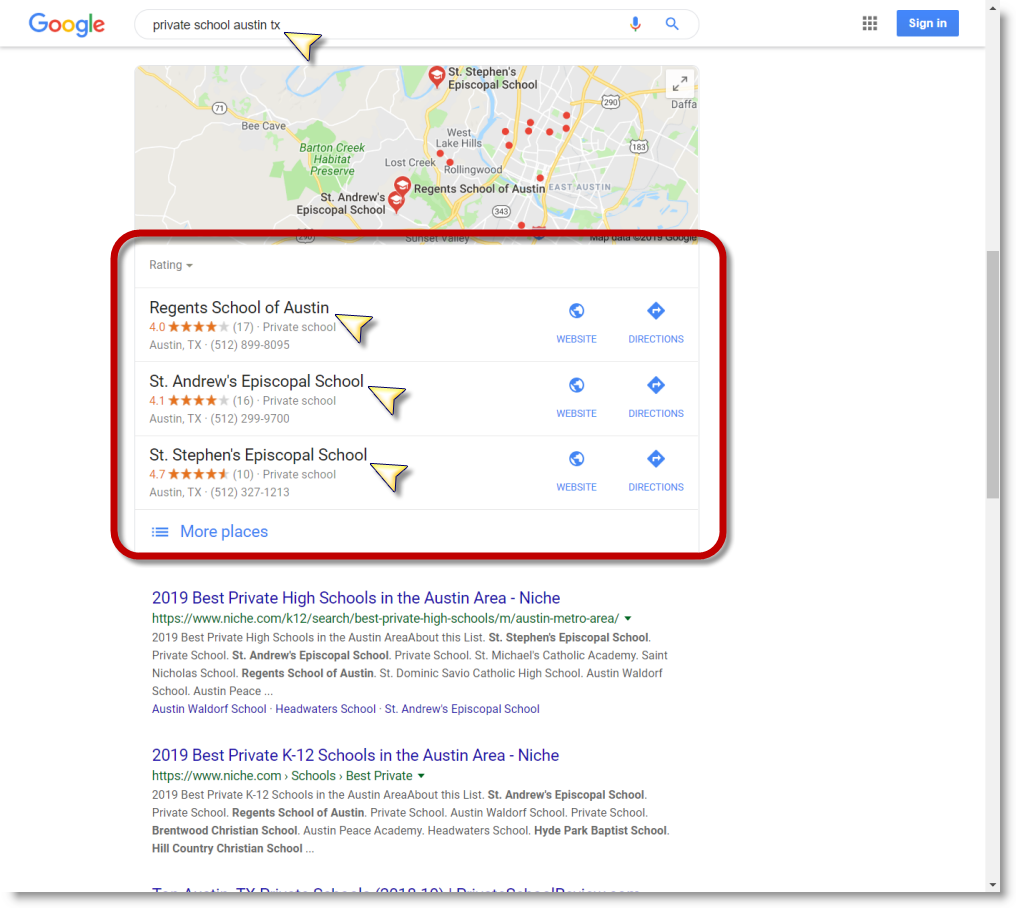 Notice how Google highlighted those 3 schools even above the normal organic results. They even allow searchers to sort by rating (i.e., Google Reviews) and see more.
Why Pre-K Through 12 Schools Need to [Correctly] Claim Their Google My Business Page
We know parents use search engines to find information about schools.
Whether they want to know more about your school's values or they're trying to get a virtual preview of student life, people expect to find what they need immediately and most will never go past the first page of search results.
For a preschool, elementary, middle, or high school, it's imperative you show up in those results right away and that Google is not displaying the wrong information, location, or address.
In today's competitive space, schools (even public and charter schools) need to be hyper-focused on how they appear on Google Maps as it affects how they'll appear on the rest of Google &emdash; even for branded searches.
The good news is having well thought out and monitored Google My Business listings can be incredibly helpful in boosting your visibility on Google and attracting families for enrollment.
So What IS Google My Business (GMB)
Google My Business is a free and tool for businesses, brands, organizations, etc. to manage their online presence across Google (including Search, Maps, and Reviews).
By claiming, verifying, and editing your school's information, you help families find you and ensure they're looking at your right information in the exact moment they need it.
Below is an example of what a Google My Business listing looks like complete with images of the school, map address, street view of the location, reviews, description, and even lists your events!
The best part is that you can optimize all these elements to give your school a tremendous advantage over anything else that comes up in the search results which is important because we want people to click onto our school's website because that brings them closer to scheduling a tour, requesting info, etc.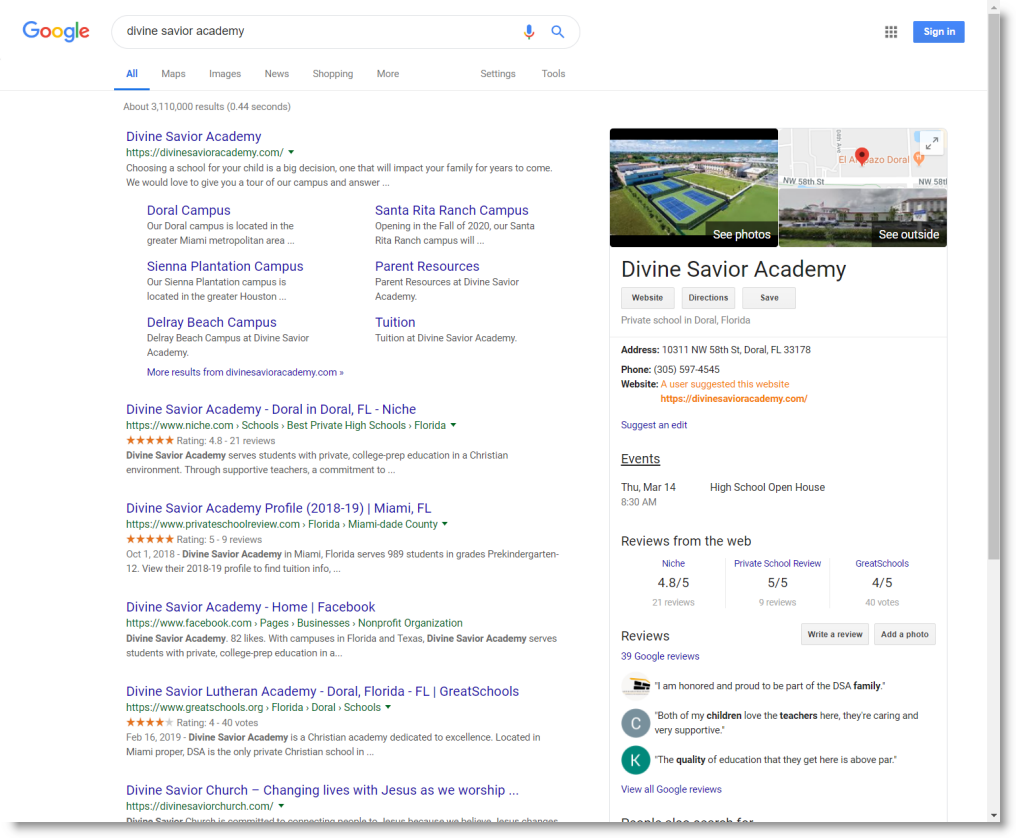 Benefits of Claiming, Verifying, Monitoring, and Optimizing Your School's Google My Business Listing(s)
Control Your Maps Location Address & Your School's Message
A properly done listing will give you control over what parents see and give them the opportunity to visit your open house, learn about your pre-k to 12 programs, call your school, visit your website, get driving directions, or read reviews. Imagine giving up this power…
Control the Message and the Conversation
Your Google My Business listing provides you an opportunity to read and respond to reviews immediately so you can resolve issues before they damage your brand. A few unaddressed bad reviews can kill any chance you have at attracting families to your school for enrollment. Parents of preschool, elementary, middle, and high school students are definitely paying attention to reviews and are absolutely making decisions based on them.
Highlight Your Best Pictures
Just like when you see a picture of yourself and think "I don't really look like that!!", you don't want to do that with your school. The images Google Maps pulls are famously horrendous. They're blurry and somehow they angles manage to capture the worst angles in the worst light. User uploaded pics are just as bad. With your Google My Business listing, you can upload your own pics.
Pro tip: Hire a professional photographer for an hour or two and have them take as many photos as possible while they're there. You want exterior shots, pics of the facilities, action shots of the teachers and staff, pictures of happy kids playing (be sure to let parents know you'll be doing this beforehand so they can opt-out if they wish). Afterwards go through the pics and pull out the great photos as well as the interesting ones then disregard the rest. Decide which would be best for your Google My Business listing and save the rest for promotions and landing pages.
Add Your Slogan, Message, Purpose, etc.
Your Google My Business listing gives you extra room to put your school's slogan, brand message, purpose, missions, etc. This works especially well if it happens to be consistent with keywords parents are searching to find pre-k to 12 schools like yours.
Insight
Within your Google My Business dashboard, you have access to an insights section where you can see how many people searched for your school, called directly from the listing, clicked to your website, or checked driving directions (all the more reason you need to make sure Google Maps doesn't list the wrong location for your school's address).
It's FREE!
The Takeaway
If you're like many of the school leaders I talk to, you're wearing multiple hats and managing your Google My Business listing(s) isn't one of them.
The problem is you now realize that your school can't afford to continue this way.
With a little time, patience, and direction, you can do this (and the benefits are 100% worth it). This is what you can expect as a result:
Immediate increase in overall website traffic
New visitors directly from your Google My Business listing
New visitors to your school website
Significantly lower bounce-rate from Google My Business referrals
Immediate increase in inquiries and tours scheduled
I've helped other preschool, elementary, middle, high, and k-12 schools optimize their Google My Business listings and we can do the same for you.
Ivan is a professional advertiser and digital content marketer. Here are some famous brands he's worked with.
When he's not running ad campaigns, Ivan is helping people get more customers with bespoke interactive chatbots (i.e., virtual assistants for your website that turn prospects into paying customers).