Top Instagram Growth Services (a complete list)
The first thing you should know about Instagram growth services is that Instagram frowns on them (especially the automated ones) and social media marketers marketers say you need to do this organically.
That said, every high-engagement / high-traffic IG account you see got that way with the help of some unnatural boosting.
Why People Want You To NOT Use Instagram Growth Services
For starters, Instagram wants you to do this through their advertising service.
Marketing consultants and Publishers want you to pay them to come up with engaging content for you or create content on their accounts, pump ad dollars into those posts (on their accounts; not yours), and then link to your IG account from their content.
Influencers want you to pay them to say nice things about you.
Seeing the pattern?
It's only in your best interest to grow your Instagram account and despite what Google searches will have you believe, it's quite easy and affordable as long as you have well-defined goals and a clear path to getting there.
All that said, there is a danger using many of the so-called Instagram growth tools and services out there.
Bots, Bots, Bots
The easiest way to get followers and likes is to use bots.
If you're not sure what bots are, it's a way to automate "finding" content and accounts to like and follow (and many times unlike and unfollow).
Among other things, bots can also be used like Ai to create [fake] Instagram accounts that can be used to like and engage with accounts.
You know who knows a lot about bots? Your favorite IG influencer.
Almost every influencer's IG started with the help of bots.
You couldn't get modeling work, representation as an artist, acting gigs, etc. unless you had a huge follower count.
This is how, and why, bots became popular… and they worked amazingly.
The Bot Days Are [Mostly] Over
Today, most bots will get your accounts blocked and banned.
Instagram openly declared war on [most of] them.
But, they're still out there because they're cheap, they work, and most people can't tell the difference between fake followers and real ones.
Truthfully, most people don't even care if their followers are real or not.
They just want their Instagram followers to look real.
If you want real users however, that you can genuinely engage with build loyalty and trust, you'll want to be very careful about the technology and automation you use mostly avoid bots.
Instagram Is Your Fast-Track To Growth
Who'd have thought that Instagram would grow to be a hugely successful platform with so many opportunities when it first launched in 2010?
It's true.
So many people are making millions just off Instagram selling products and promoting their brands to like-minded followers.
…but you have to work hard if you want the same success.
It's hard enough just to get noticed on Instagram, let alone become known by everyone in your space.
It requires lots of patience and time that most of us don't have.
This is why Instagram growth services exist today.
The Good, Bad, & Ugly
As with search engine optimization (SEO), too many of the people out there selling these services are scammers and really just want to provide enough "value" to maybe get a few sales from you before you realize you've been taken advantage of.
Sound familiar?
Don't worry, I've been there too.
So how can you choose one?
By using my guide to the best Instagram Growth Services available right now.
This guide will help you decide which one is worth your time and why.
Most importantly, it'll tell you who to run from.
Let's get started!
What Is An Instagram Growth Service?
An Instagram growth service is a methodology to consistently grow your profile and increase your engagement through your Instagram account.
The growth service can be done via a team of strategists and social media marketers or it can be through artificial intelligence (Ai) and one or more automated tools.
Instagram growth services can do for you what you could do yourself if you had hours every day to devote to your Instagram account.
Similar to large companies that hire social media marketers, you can get an Instagram growth service for a fraction of the cost of hiring an agency or full-time employees (and without the headaches).
Very clever, right?
How Do Instagram Growth Services Work?
We already know it's important to distinguish organic growth services and those that use bots.
Bots are extremely efficient and can literally increase your followers overnight.
While that may sound appealing, there are serious consequences to bot activity.
The strategy for organic growth services is similar, but different.
Similarly, both attract followers.
However, bot growth services typically get fake followers while organic growth services will get you real followers.
When bots actually get you real followers, they're almost never interested in your content and will never, ever buy your products or services.
When you get followers through organic methods, they are interested in what you do and there's a very high probability that they'll like what you're offering and will want to buy whatever you're selling.
Obviously, fake profiles can be a problem for business owners.
Besides being low-value, some of your real followers will notice all the bot activity and fake followers and be turned off to it.
It's not a stretch for potential customers to connect how you conduct yourself on Instagram to how you'll be if they decide to do business with you.
Subconsciously, people will NOT trust you and therefore will not want to do business with you.
What can bot growth services do to help grow your account?
With an understanding of how people think and how Instagram works, automated growth services:
– Like
– Follow / Unfollow
– Post
– Comment
These are the most basic functions that most services can perform.
Others offer more advanced services like creating content calendars, scheduling posts, creating personas, and sending direct messages (DM).
Bots can use filters to target an audience but they're not always precise in their targeting.
What about organic services?
In short, organic Instagram growth services will do what's needed to make sure you get only real followers in your niche.
Review Of The Top Instagram Growth Services
Check out these top Instagram growth services:
1. Upleap
Overall Score: 5/5
Upleap is unique for many reasons.
It has it all, from a secure website and payment processing to their strict rule-following strategies.
Upleap is completely transparent about their business practices and, best of all, they offer genuine organic growth.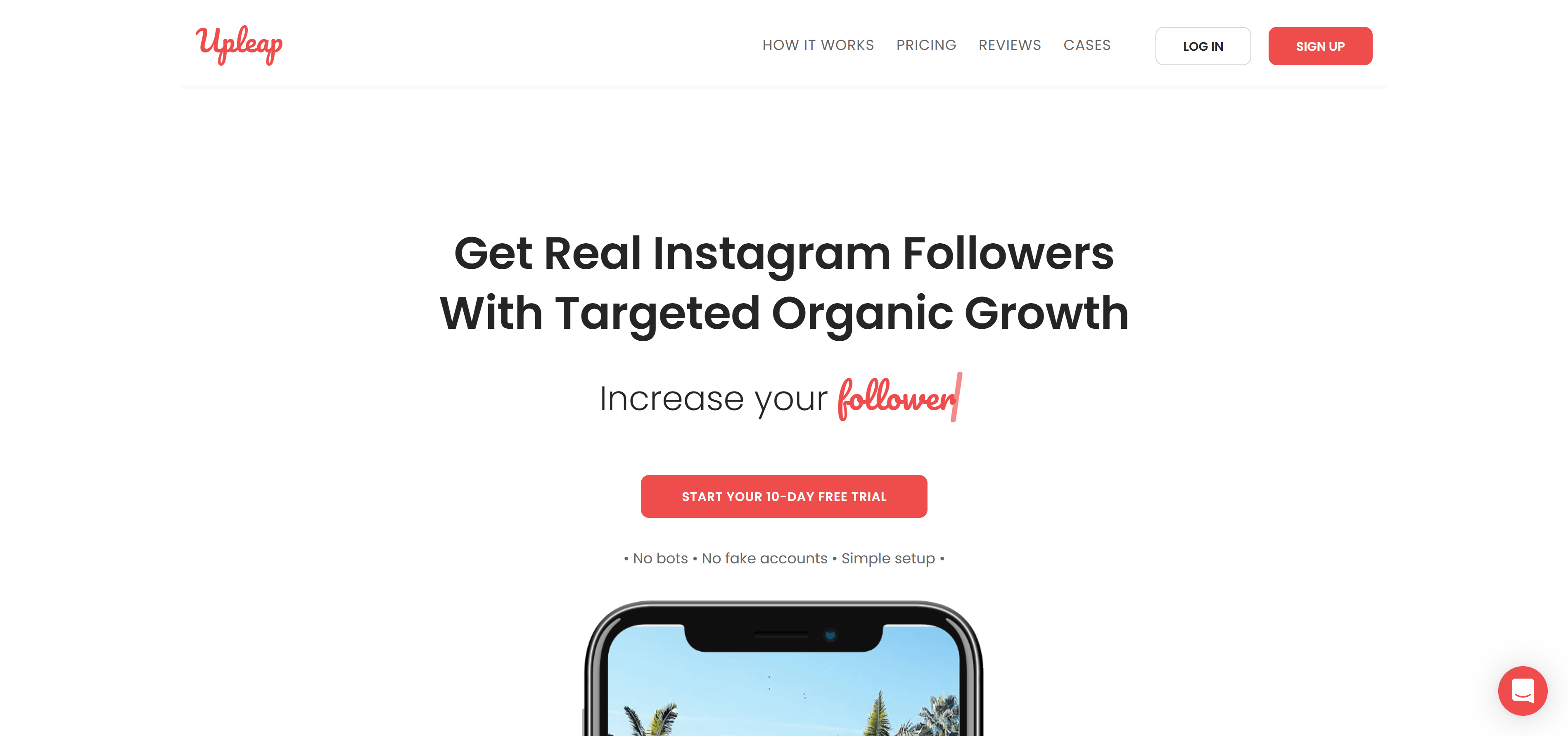 2. Nitreo
Overall Score: 5/5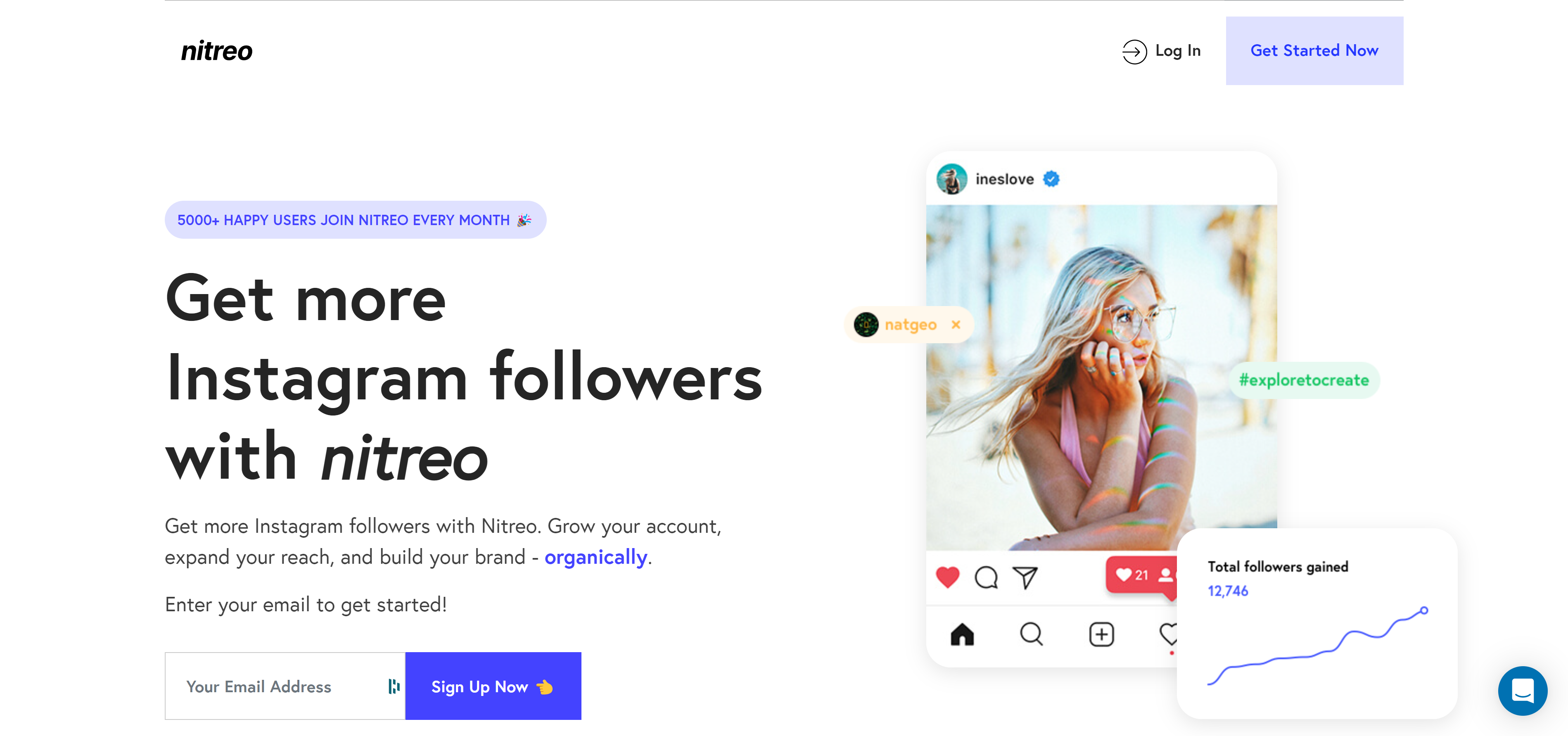 3. Kenji
Overall Score: 4.8/5
Kenji uses advanced AI technology to perform their functions in a natural way.
It will work efficiently and provide semi-organic growth despite Kenji technically being a bot.
It's an excellent tool with everything you'll need.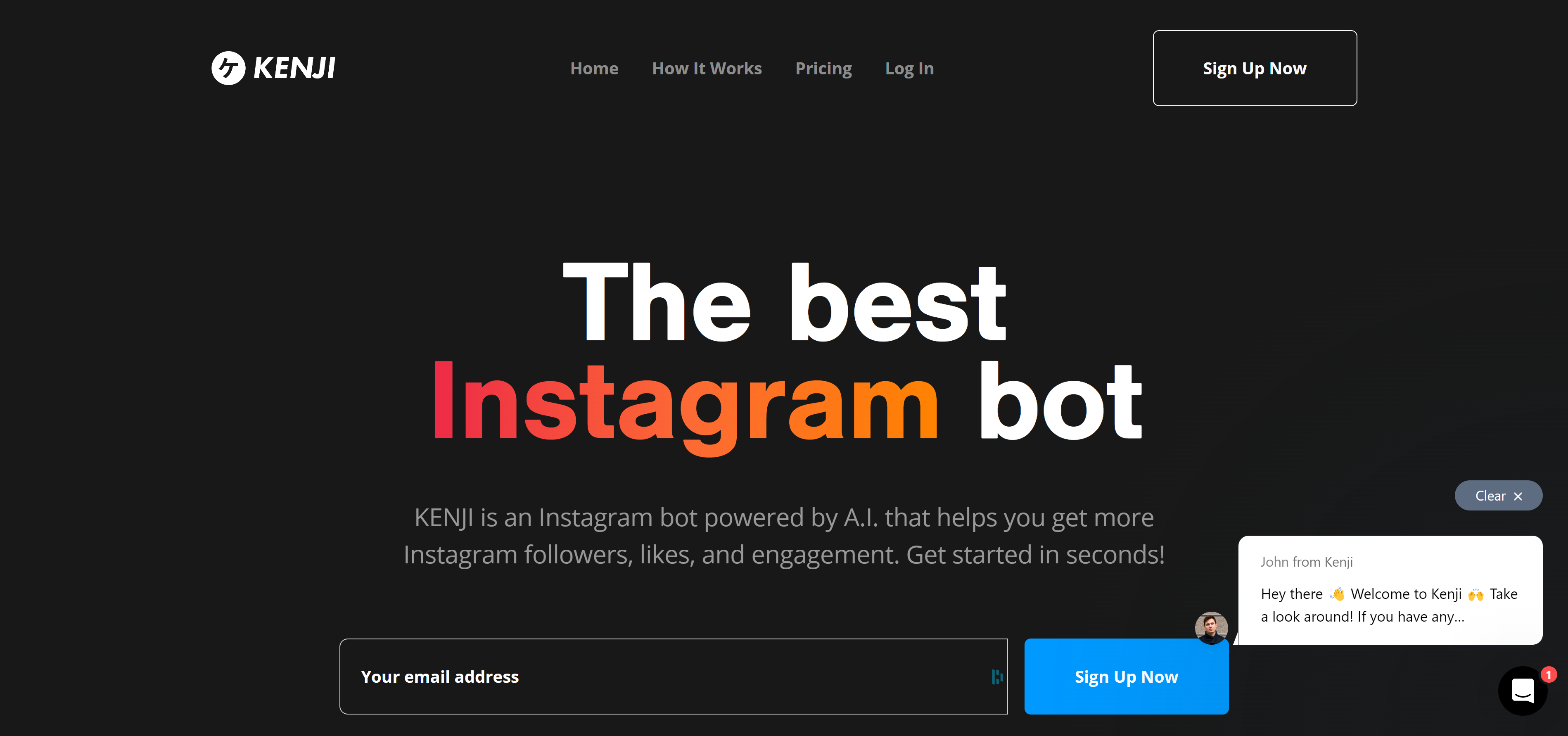 4. Social Boost
Overall Score: 4.5/5
Social Boost is a company that specializes in helping people become social media influencers.
That said, many brands use it as well.
It's a great choice for increasing your Instagram engagement and follower count.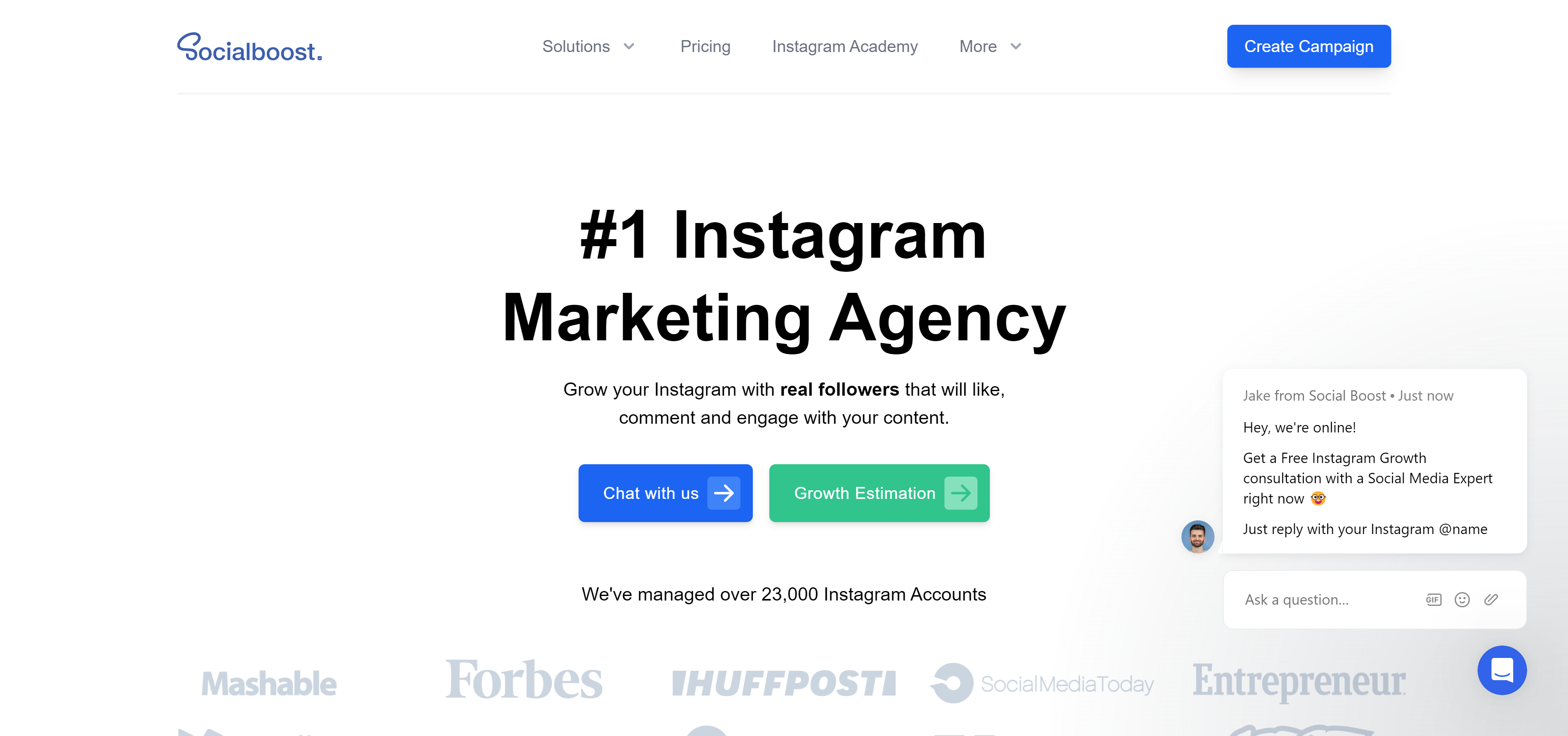 5. Rocket Social
Overall Score: 3.3/5
Rocket Social is not transparent.
I would not consider it safe and do not recommend it for most users.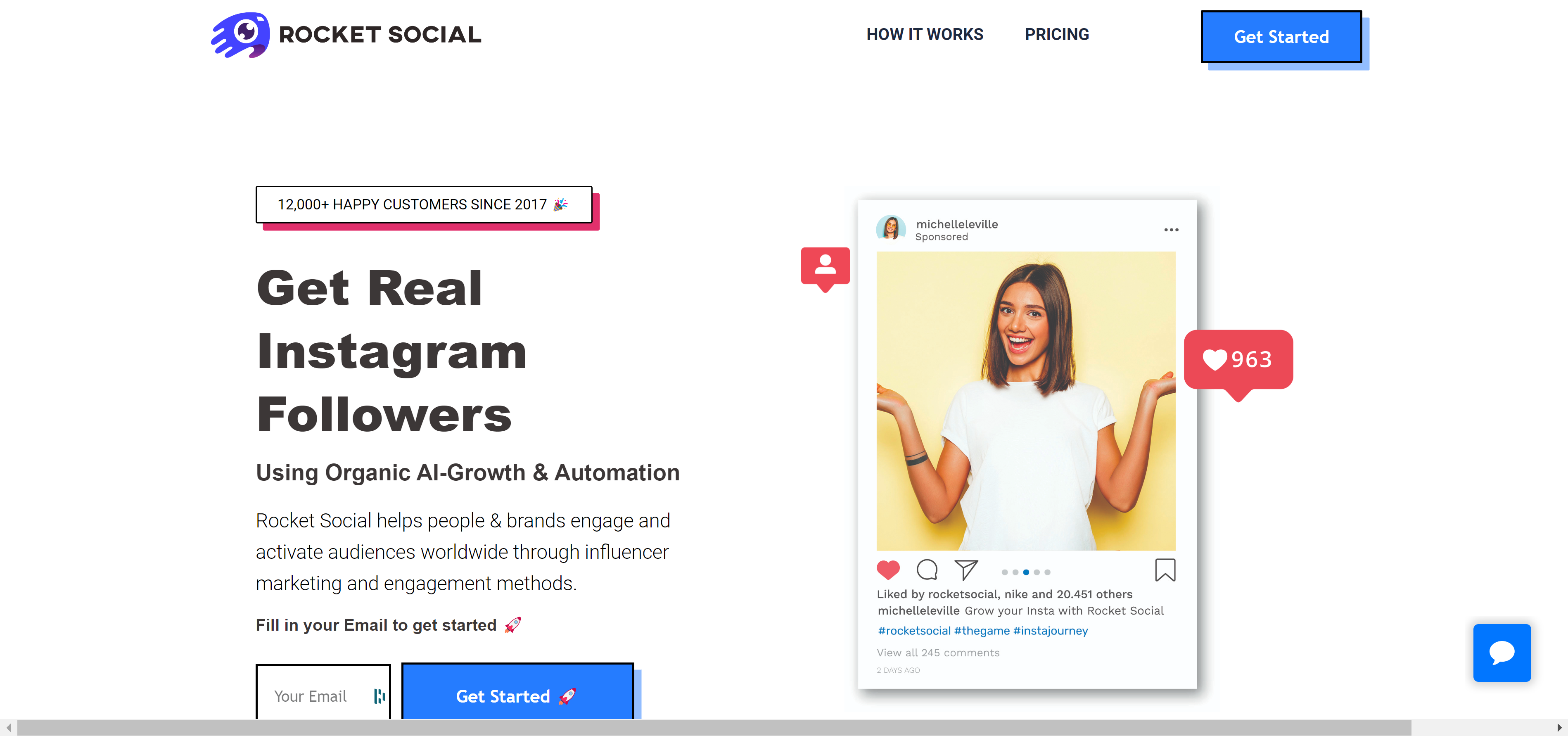 6. Firing Table
Overall Score: 3.2/5
Firing Table claims that they only provide organic growth but I know for a fact that they use tons of bots for automation.
This high level of bot automation will be an issue for long-term account growth and will eventually lead to your account being blocked or worse.
Their sneakiness doesn't end with their bot activity. They've also been known to overcharge for services and not honoring refund requests.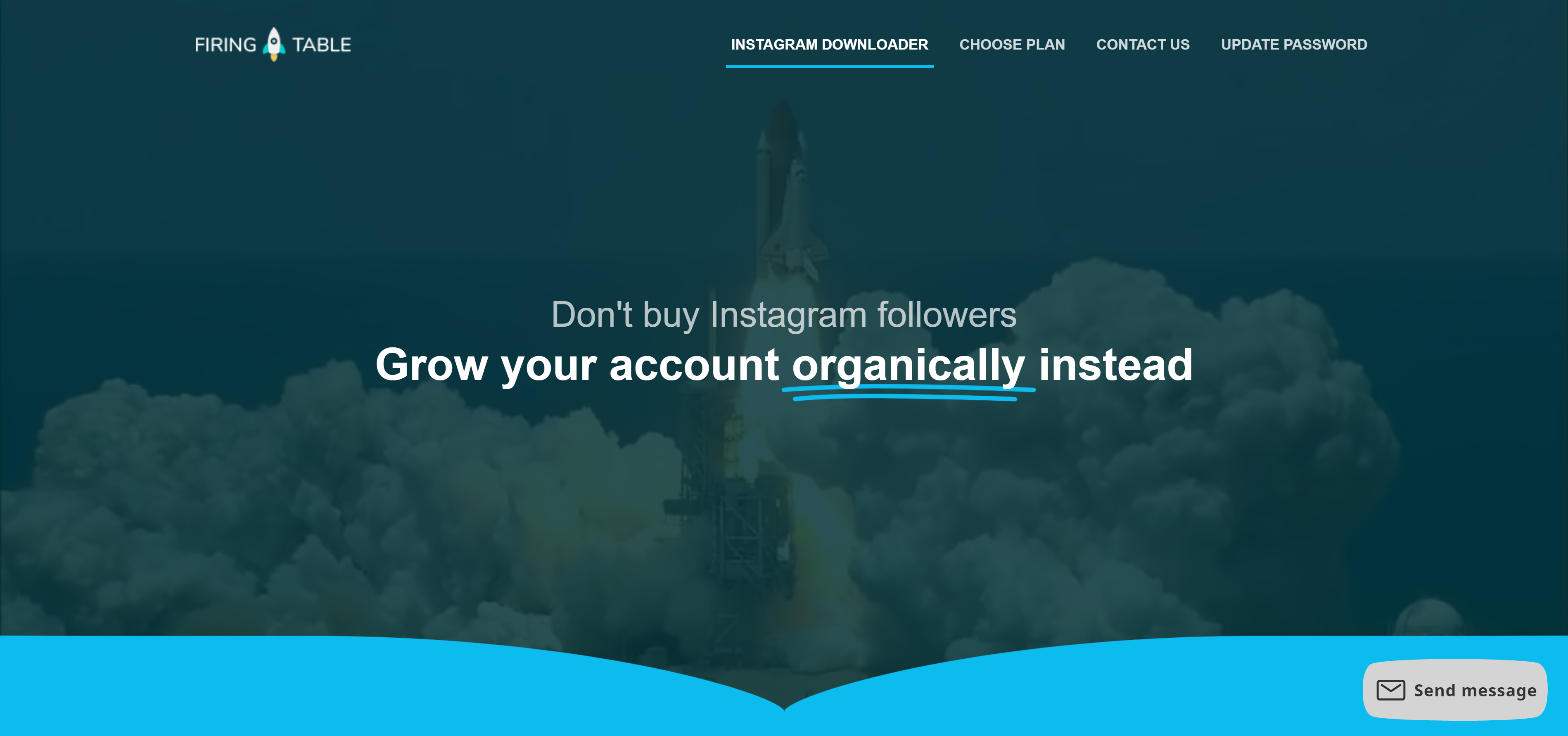 7. Instarabbit
Overall Score: 3.2/5
Instarabbit is not the best choice for organic growth because although they claim to be organic, there's zero evidence of it.
While not the worst service out there, it's far from the best.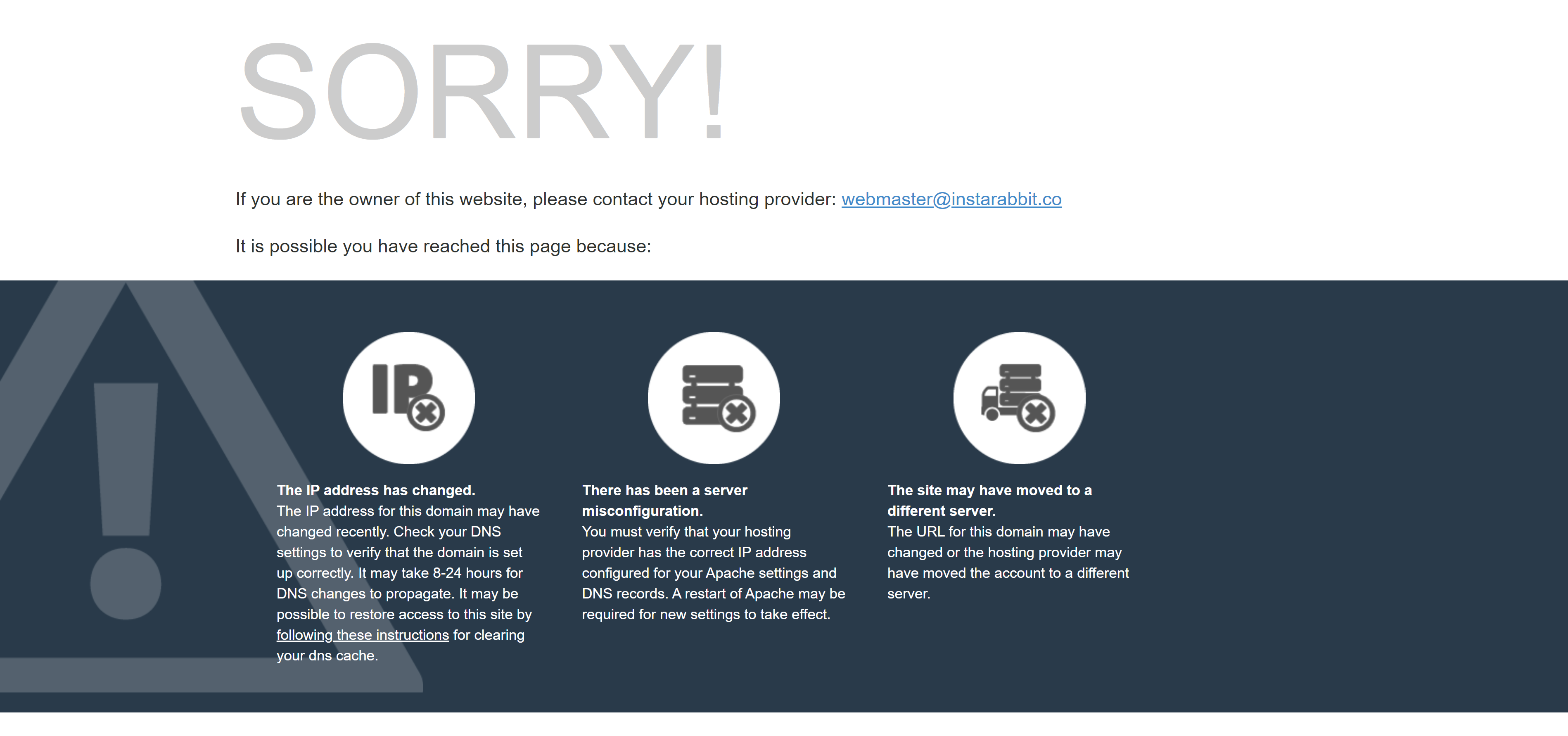 8. Amplfluence
Overall Score: 3/5
Unless you're okay getting mostly fake followers, Ampfluence won't be your #1 option.
Also, there's lots of talk about organic growth, but that's just not what you'll get.
They also request a lot personal information to get you started (which I'm not a fan of).
All that said, Ampfluence isn't that bad a service — I just wish they were more upfront about what you're getting.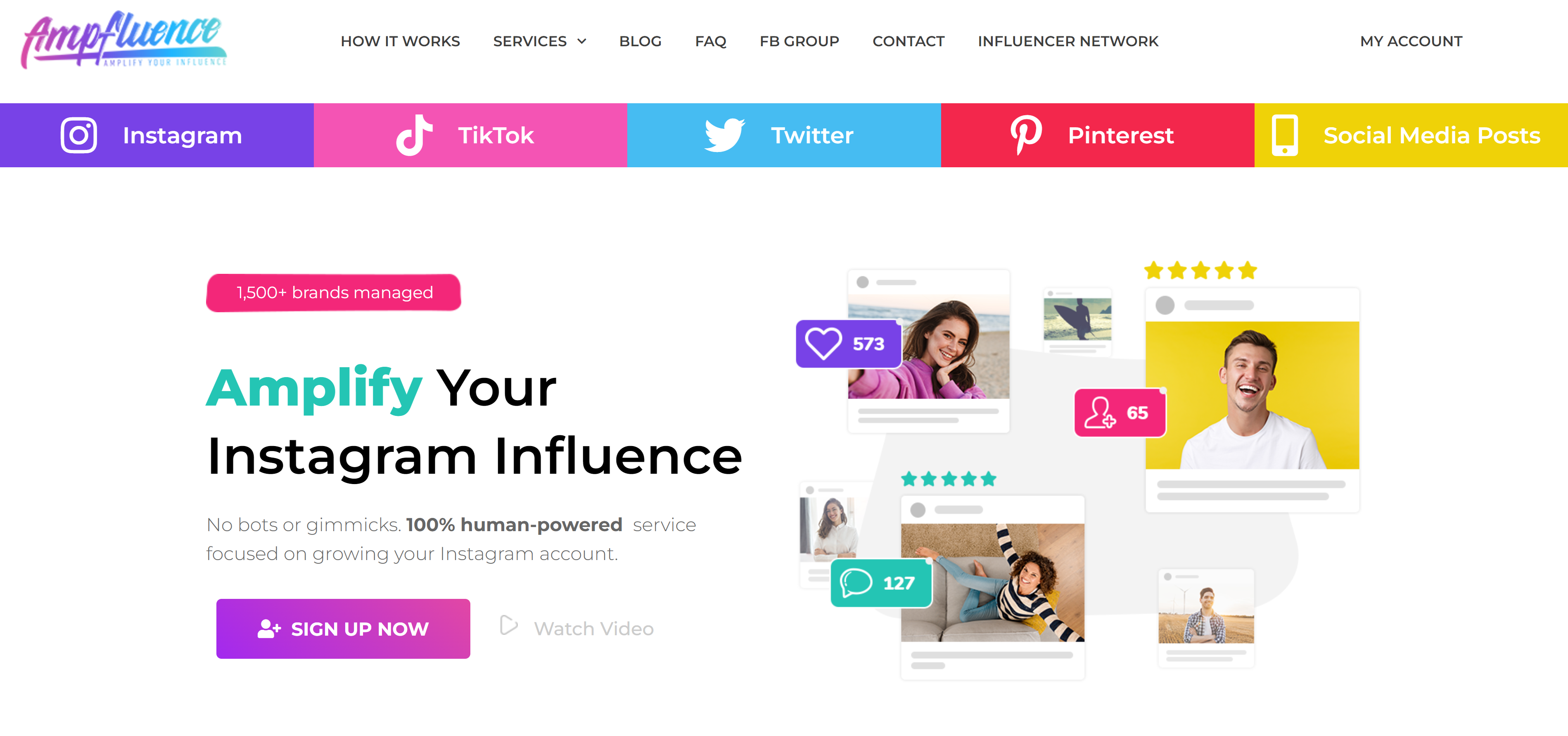 9. WorkMacro
Overall Score: 2.9/5
WorkMacro is a classic bot despite being advertised as an organic Instagram growth platform.
Another thing I don't like is that they request more personal information than most.
Their site is also consistently down which raises flags.
I don't think they'll be around very long.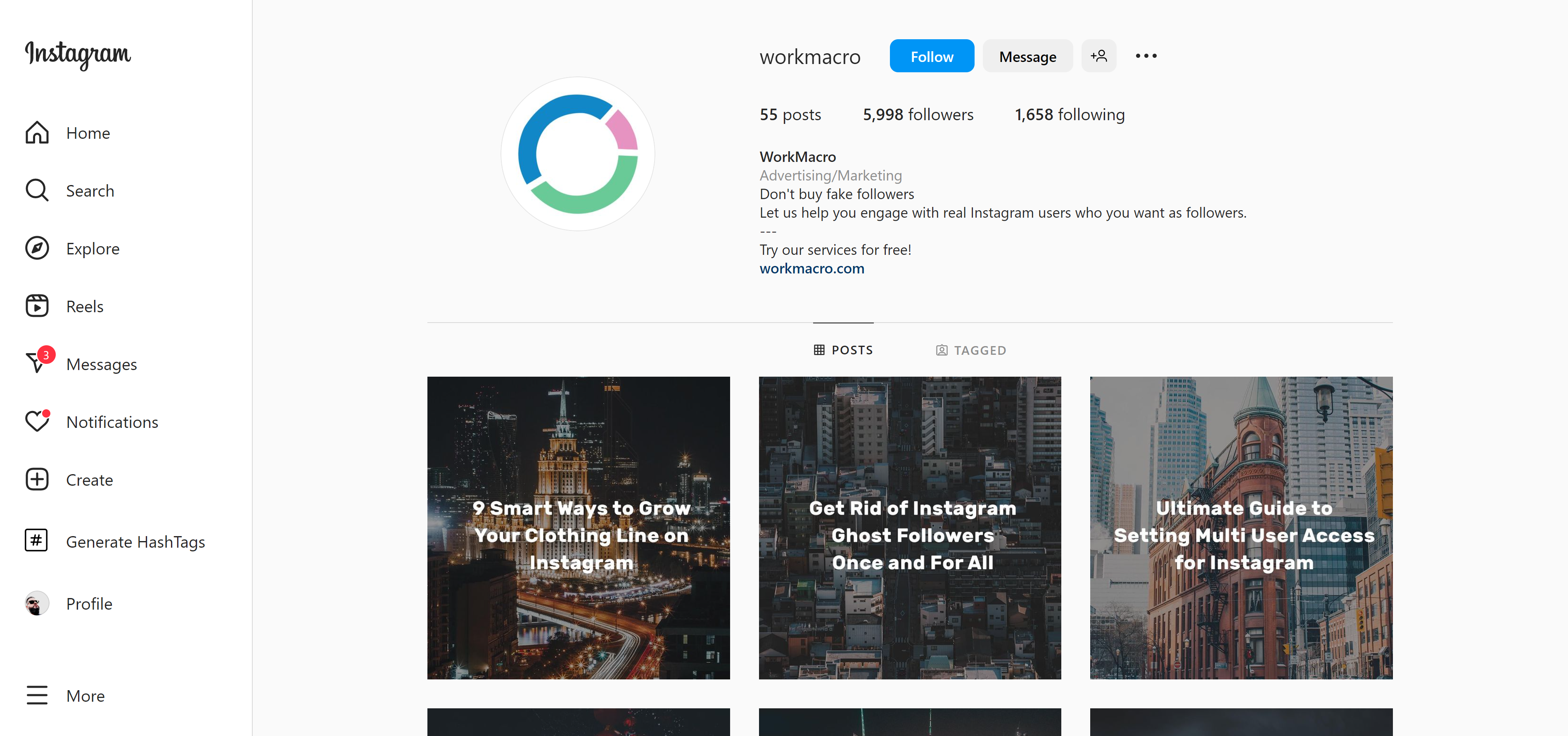 10. iDigic
Overall Score: 2.9/5
iDigic will definitely get you the likes and followers they promise but it's also associated with very heavy bot activity.
They've got lots of happy customers which has to count for something but still, I can't recommend them because I can't see anyone being able to monetize these "followers".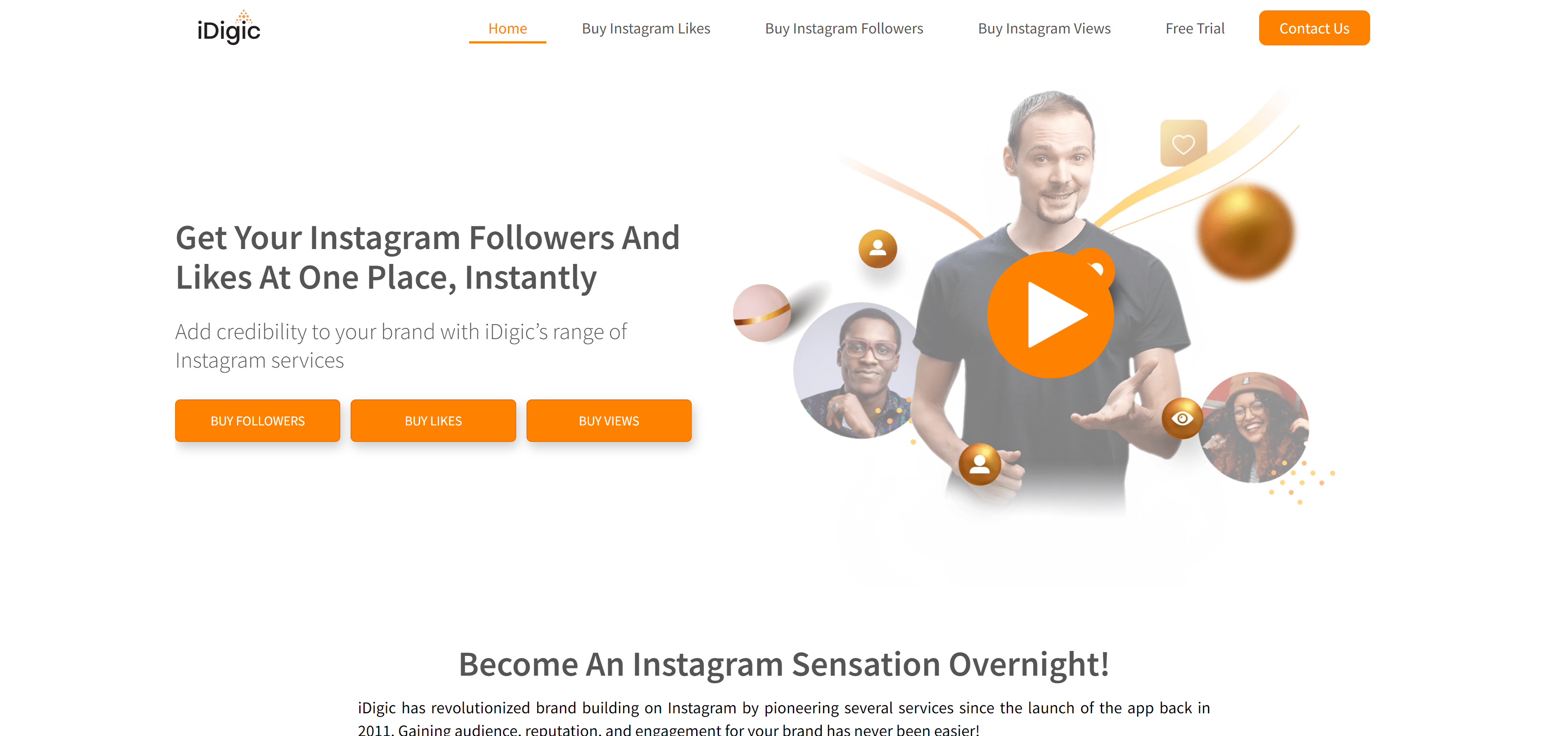 11. Social Sensei
Overall Score: 2.8/5
Social Sensei has been accused of not delivering on their promises, so there's that.
I do not recommend.
12. Social Flight
Overall Score: 2.6/5
Social Flight is was not my favorite Instagram growth tool.
With them, you can expect lots of bots accessing your account and that means you're in constant risk of getting banned and / or blocked.
This is no-go.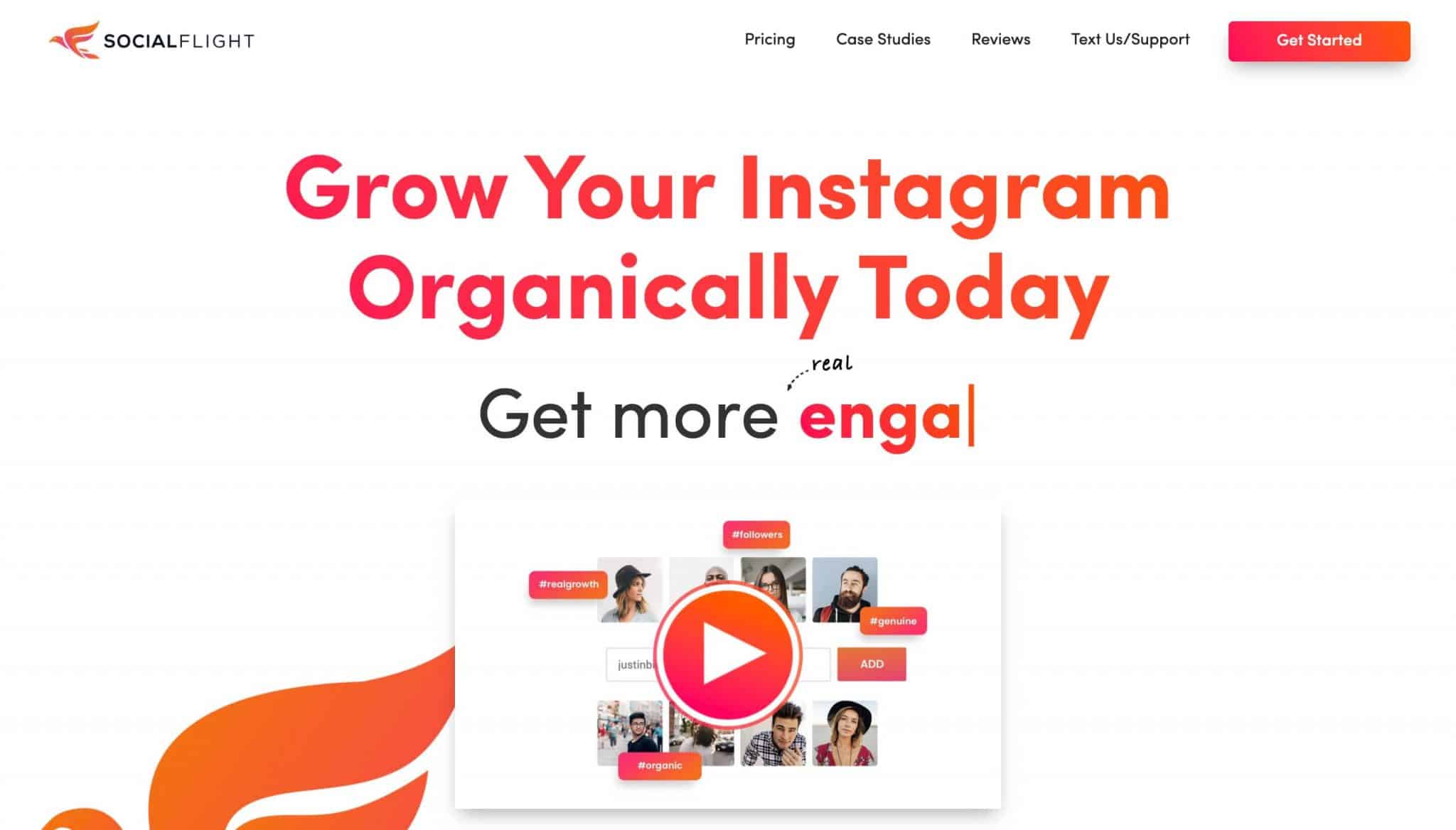 13. Kicksta
Overall Score: 2.3/5
From what I've read, Kicksta can do more damage than good to your Instagram account.
It's not safe at all so stay away.
Your account will likely be banned be pretty quickly as there's no actual organic growth.
14. Trusy Social
Overall Score: 2.3/5
It's been proven that Trusy Social provides fake followers and engagement.
Yes, you'll grow your account and get engagement but not in a way that'll bring in any real results.
Trusy Social does a really good job branding and marketing themselves and as such, look very legit.
Honestly, they come across extremely legitimate and if you get their newsletters or see their IG account, you'll be drinking the kool-aid, too.
They have worked on projects with big brands which also adds to their credibility but don't be fooled into thinking you're getting the same services.
Given what you'd actually be getting, it's not worth it.
Remember, you can't build trust and loyalty with fake followers.
One thing they do offer which I like is refunds but I still wouldn't risk it.
Bottom line, but you could do worse than Trusy Social but why would you??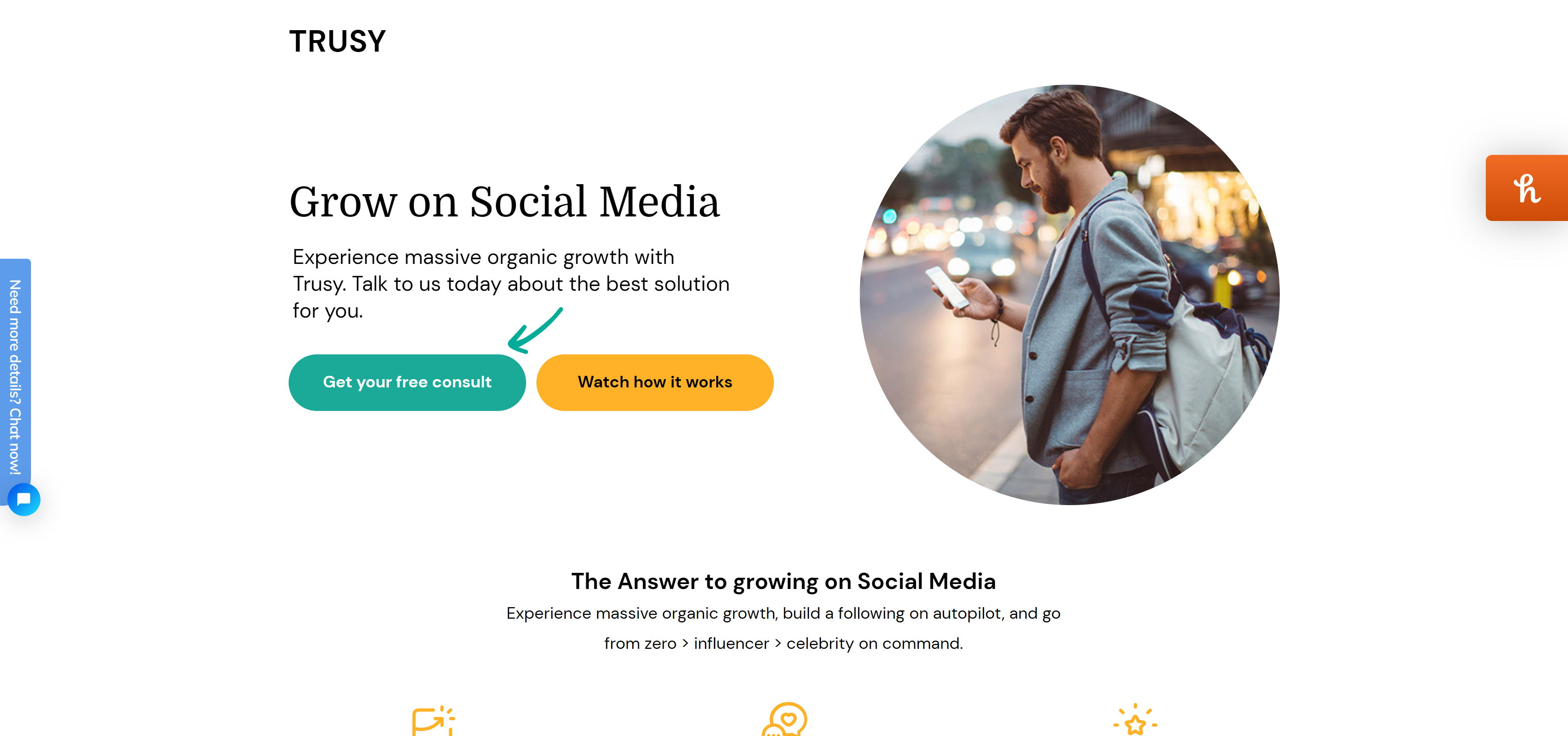 15. GetRiver
Overall Score: 2/5
Their high bot activity (despite their claims to the organic) will only lead to one thing: a ban from Instagram.
GetRiver doesn't offer anything special and also isn't particularly great at what they do either.
There's more than a few claims that GetRiver is an untrustworthy service and offer deceitful practices and hidden bot activity.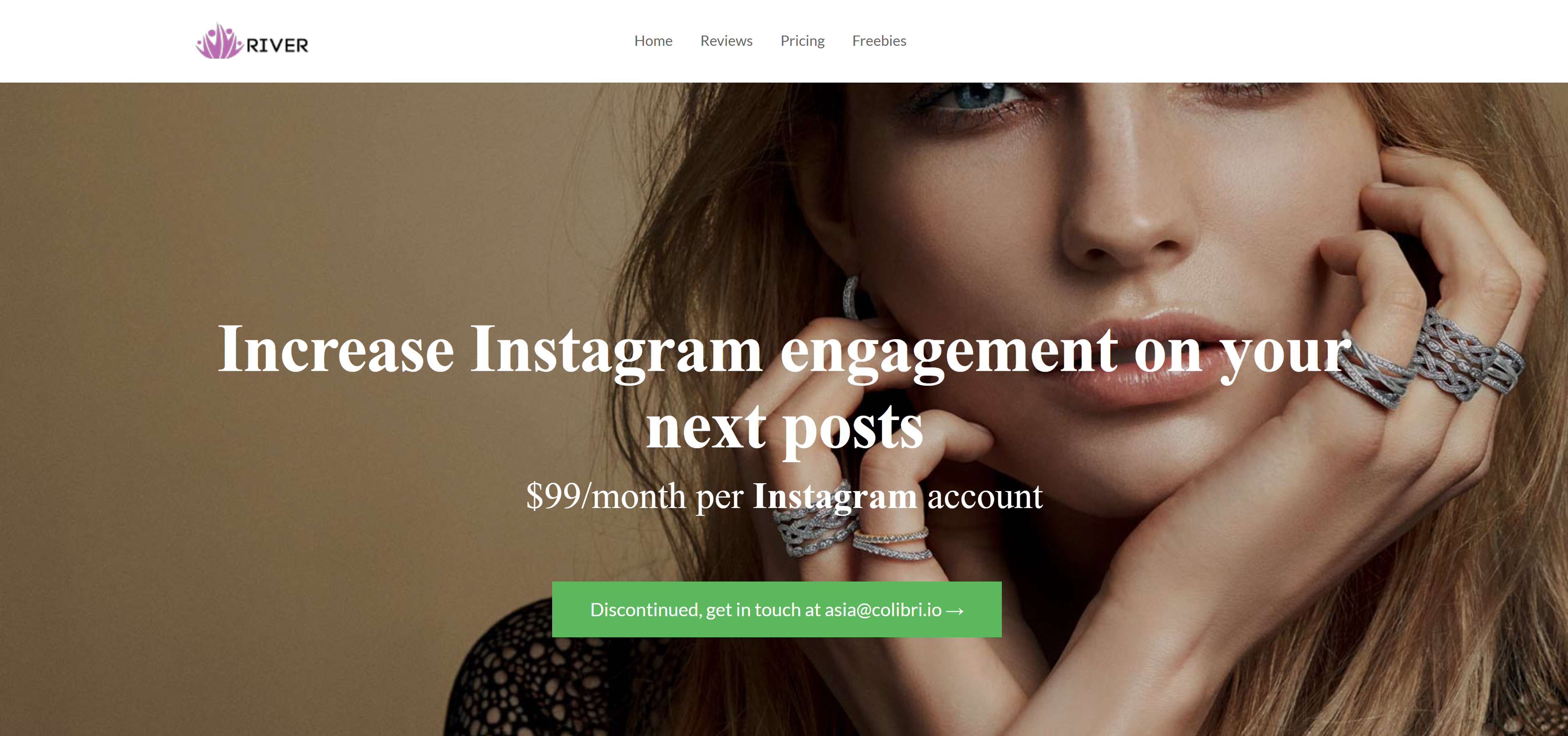 16. AiGrow
Overall Score: 1.8/5
AiGrow is not for everyone anyone.
If it does work, expect fake followers and a banned account shortly thereafter.
From what I understand, they also charge you for services not received once you cancel.
Good times…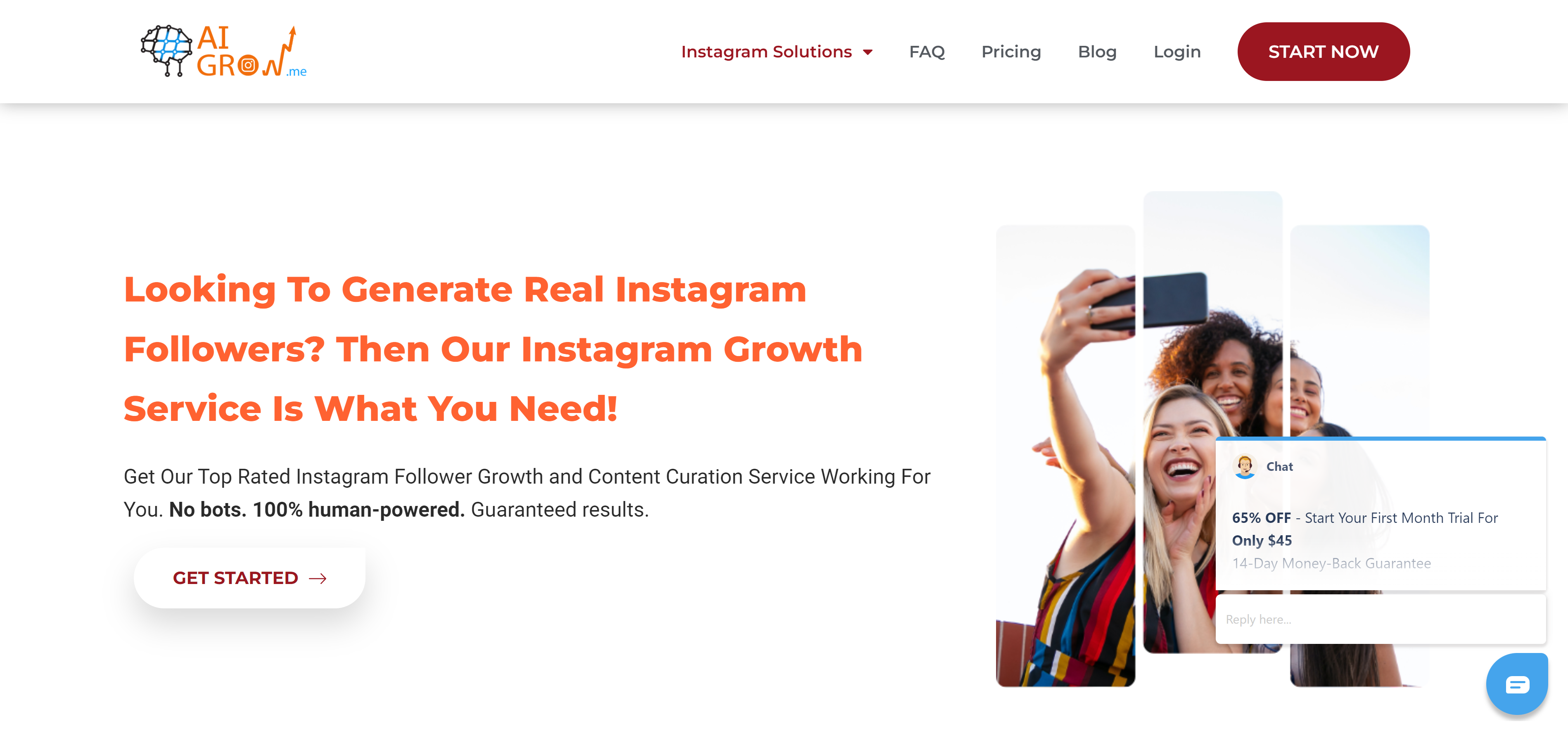 17. PopSocial
Overall Score: 1.7/5
PopSocial is 100% a bot, despite them claiming otherwise.
Only recommended for people wanting overpriced fake followers and banned accounts.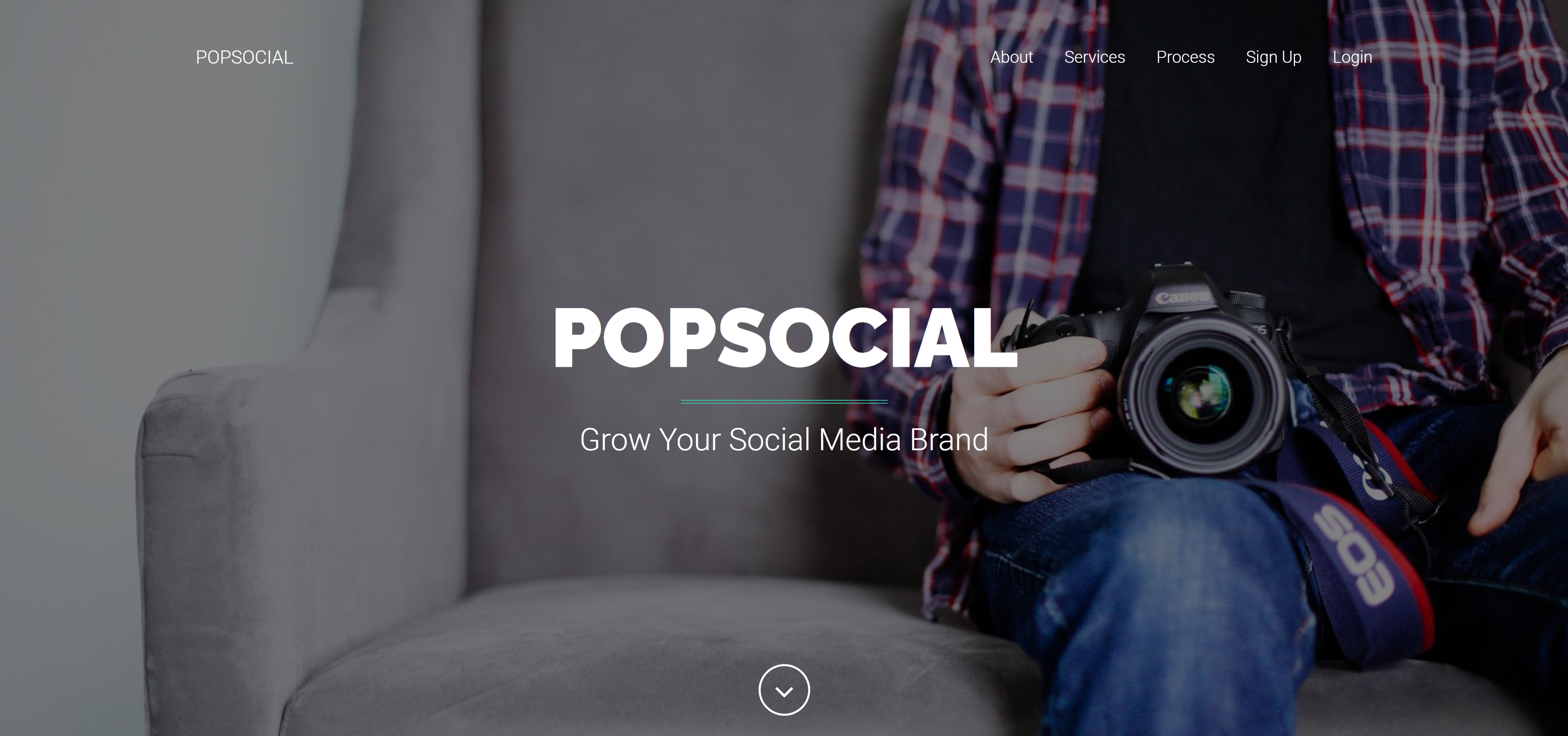 18. Sogro
Overall Score: 1.5/5
This service doesn't look to be operating anymore but continues to charge their clients all the same.
At some point at least they did offer followers and engagement, even though they were fake and worthless but for now, stay away.
This smells like a total scam.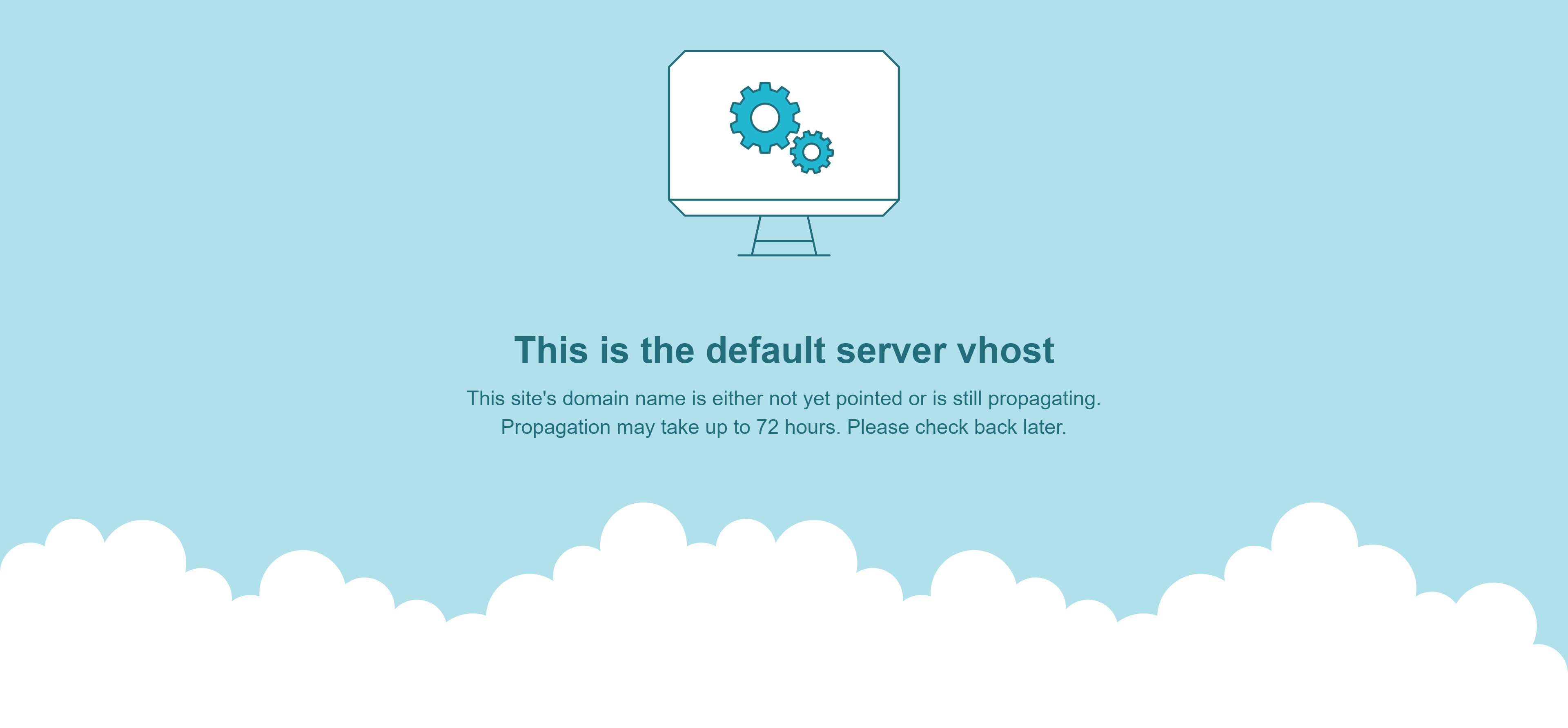 The Final Word
You don't have to be afraid of using an Instagram growth service but you definitely want to know who you're getting into business with (especially if you're sharing any personal data or account access).
Organic is almost always better but that doesn't mean bots, automation, or Ai are all bad (as long as you're working with a legitimate Instagram growth service provider).
Because there are so many things to take into consideration, I put all this together to highlight the positives and negatives in one easy guide.
Now, all you have to do is choose the growth service that best suits your needs.
Ivan is a professional advertiser and digital content marketer. Here are some famous brands he's worked with.
When he's not running ad campaigns, Ivan is helping people get more customers with free ai-powered interactive chatbots (i.e., virtual assistants for your website that turn prospects into paying customers).